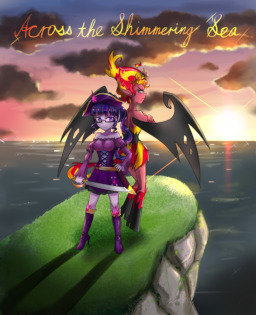 Source
All know the story of the pirate ship, the Crimson Heart and her cursed captain, a monster forced to haunt the seven seas until the end of time. All know to steer clear of the blood red sails, lest they run into hell itself.
Few know of Neptune's Blessing, a magical item that can grant whoever holds it anything their heart desires.
Twilight Sparkle knows both tales are not fiction. Though the last place she thought she'd ever be is on the Crimson Heart looking for Neptune's Throne where the wish awaits.
Sunset Shimmer lives a nightmare every day. She's ready to shed her monstrous form, and Twilight is going to help her one way or another.
But they aren't the only ones after Neptune's Blessing. The high-speed race across the seas begins as every flag seeks to claim the wish for themselves, and be crowned King of the Seas.
Pre-read by first mate, DrakeyC!
Cover art created by the super talented iojknmiojknm!
Now featured on Equestria Daily
Chapters (12)