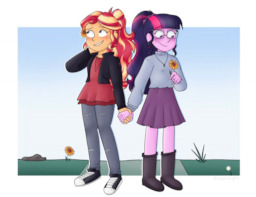 Source
In the town of Canterlot, on a very stormy day, Sisters Celestia and Luna are trying to get home to escape from the storm, that was until Celestia heard the sound of a baby crying in the distance. The sisters came to see what it was and it was in fact a little infant, who was drenched from the rain and crying uncontrollably. Celestia's maternal instincts kicked in and they brought the little child into their home. Since Celestia saw that the infant was inside of a cardboard box, meaning the child's parents must have left her there, the two sisters decided to raise the child as their own, and after the storm ends, and they see the suns rays, they name the child Sunset Shimmer after the shimmering rays of the sunset. Since then, they have been raising a very friendly and energetic little girl. Now come, and listen to the journey of the human world Sunset, from childhood to adolescence to her college years, to her adulthood. It's going to be a wild ride.
I have changed it's rating to T because in future chapters there's going to be a lot of curse words and a little violence, but not a lot.
All credit goes to Grand Galvatron, Darth Wrex, and Indigo Lightning Strike. Thank you Wrex and Indigo, stay awesome.



Cover Art made by: Sunsetslight
Chapters (7)