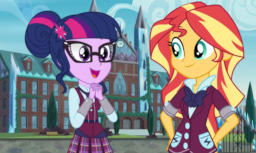 Twilight Sparkle is the best student at Crystal Prep Academy, and while she's pretty happy with her situation, her unofficial big sister, Cadance, keeps telling her to try and make friends. It never seems to go well for her, until Cadance convinces her to tutor the new student at Crystal Prep, Sunset Shimmer.
---
Pre-read by gerandakis
Featured on 9th Aug 2018!

---
Sex tag for:
Volume 1: references to masturbation, and talking about masturbation.
Volume 2: references to sex, and talking about sex.
Cover vectors:
Sci-Twi by aqua-pony
Sunset Shimmer by punzil504
Chapters (19)