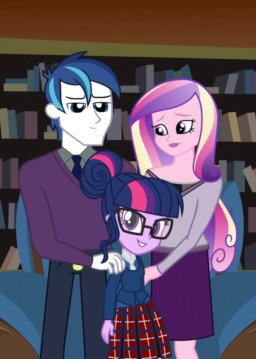 Four years ago, Shining Armor's parents died in a horrific car accident, leaving him and his wife to take care of his little sister, Twilight Sparkle. There isn't a thing that he wouldn't do for her, yet there are times when it feels like there isn't anything he can do for her. To him, the time she spent under his care has been nothing but a long string of him letting her down.
All things considered, it is understandable that she wouldn't want to spend a day reserved for celebrating one's parents with him.
After all, he is not Twilight's father, and she's not his daughter, right?
An official entry in my Harmony and Valor series.
Cover art by the talented PaulySentry.
Rated Teen for mild language.
Featured on Fimfiction somewhere between June 15 and June 16.
Now has its own TVTropes page.
Chapters (1)