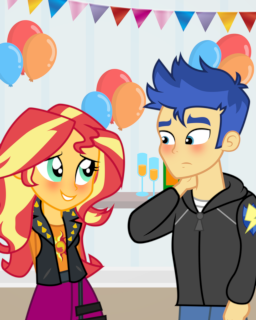 Sunset Shimmer's ex-boyfriend, Flash Sentry, approaches her one day with a request; he wants to raise money for a bunch of people who lost their homes in a fire, and he would like the Rainbooms' to help him organize a fundraiser. Naturally, Sunset agrees.
However, things become a lot more complicated than either of them could have expected. In-between preparations for games, activities, a bake sale and a live concert, they have to deal with family drama, old rivalries and grudges, a new rogue magic user, and even a kidnapping.
Throughout all of this, as Sunset spends more time with Flash, she realizes that certain feelings are being stirred up. Feelings that she had once simply faked, but are now very real.
But does Flash feel the same way?
Looking for editor.
Chapters (1)