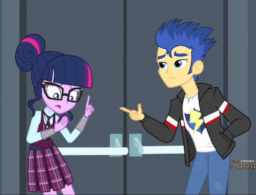 On her first day at Canterlot High, the Twilight Sparkle of the human world learns that it wasn't just her new friends who mistook her for her royal Equestrian counterpart. Realizing that what had seemed like a harmless brush-off to her may have in fact broken the heart of nice-guy Flash Sentry, Twilight becomes determined to make it up to him. What better way to do that than to set him up on a date with the girl of his dreams-or at least, a close proximity to her?
It's a crazy plan to be sure, but it just might be crazy enough to work. Best of all, it's completely risk free. After all, there's no way either of them could develop feelings for each other, right?
Featured on Fimfiction on November 5th.
Check out the TVTropes page.
Chapters (1)