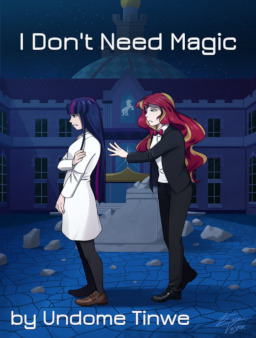 Source
Professor Twilight Sparkle has spent her adult life trying to forget the follies of her youth, and the fiery sorceress whose betrayal shattered her heart.
Sunset Shimmer has built an empire of steel and science in memory of the otherworldly power she once wielded, and of the soft-spoken scientist she once called "friend."
Now, fifteen years after the disaster which tore their bonds asunder, a new threat will force these two former friends to reunite in order to save both worlds. And as the past collides with the present, Sunset and Twilight will learn that even in a world without magic, friendship and love still have the power to do the impossible.
---
Set after Legend of Everfree. Later Equestria Girls stories aren't necessarily canon to this timeline.
Pre-read by ChudoJogurt.
Cover art by Kare Valgon.
(2018-25-04) Featured on Equestria Daily!
Story has been written and will update weekly until completion.
Chapters (24)