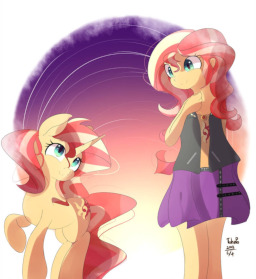 Sunset Shimmer isn't a normal girl. She can levitate objects with her mind, shoot hot energy from her palms, and when she's scared, she can disappear and reappear somewhere else entirely.
Her parents know. Her siblings know. What they don't know is how different Sunset really is.
When nightmarish creatures attack and kidnap her sister, Sunset ventures into the unknown and discovers a world teetering on the edge of total darkness.
What begins as a rescue mission turns into a struggle to save a kingdom, as Sunset learns just who and what she is, and the weight that comes with it.
Chapters (5)