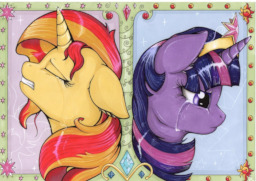 Source
Sunset Shimmer and Princess Twilight Sparkle have both been plagued by odd dreams. Romantic escapades and tender moments between ponies they don't recognize that all end in tragedy.
Together, they investigate this phenomena, aware of the growing tug their hearts have for one another. The answers they find, however, may threaten to tear them apart.
Cover art from Yellowrobin. Thanks!
Pre-read by Oroboro!
Chapters (1)