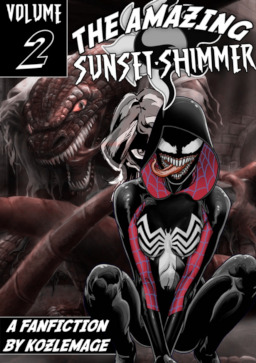 This story is a sequel to Rise of the Ghostrider: A ride with the Devil
---
"So, let's start this at the beginning one more time,
My name is Sunset Shimmer. I was bitten by a radioactive spider... And for the past few months, I've been the one and only: Spider-Girl!
You probably know the rest... That i saved the city, helped lots of innocent people, made a very close heroic acquaintance, got a sweet new look from one of my many new close friends, told a "certain someone" about my little part time job, and now, I have finally found a way to share my new gifts with this world. As someone i may have lost but still lives on in my mind and heart once said, that "With great power, there always comes great responsibility."
Description by Hungry Hero
This story takes place in the EGFU: Equestria Girls Fiction Universe
Volume I - With great power comes great responsability :
Saga Vulture:
Arc Spider-girl : Chapters 1 to 4
Arc Electro : Chapters 5 to 6
Arc Vulture : Chapters 7 to 10
Volume II - Web of Shadows :
Saga The Fiend:
Arc Lizard : Chapters 1 to 4
Arc Rhino : Chapters 5 to 6
Arc The Fiend & Starlight Glimmer : Chapters 7 to 9
Saga Symbiote:
Arc Fisk : Chapters 10 to ? (Ongoing)
Chapters (25)