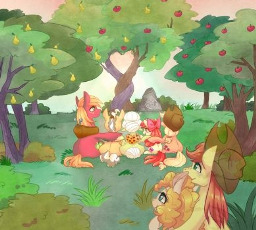 An expansion to "The Perfect Pear"
Grand Pear, after bitterly leaving his daughter in Ponyville to pursue his dream of becoming a successful pear farmer, has finally settled in his new home in Vanhoover. The old stallion, however, receives a letter from his tragic past that soon begins to plague his new found life...
Meanwhile in Ponyville, the Apples face the hardships caused by a longstanding family feud, especially Buttercup. Trying to make sense of it all, a young Big Mac and Applejack are caught in the middle of it. Seeking to finally make amends, Buttercup and Bright Mac make a decision, a decision that will forever change the Apple family...
Years later, Apple Bloom can't help but wonder the fate of her parents. Being the youngest, she feels left out from the rest of her family and seeks to unravel the mystery of her parents...
---
Special thanks to Phyllismi for allowing me to use her amazing artwork for my story. Check her out on deviantart here
Chapters (7)