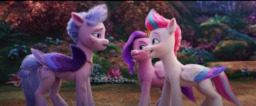 It's Mare's Day in Zephyr Heights, and after having missed out last year Pipp and Zipp are keen to make this year extra special. However, when Alphabittle suddenly shows up Queen Haven is forced to have a rather frank conversation with her daughters about relationships, loss, and starting anew.
An attempt to expand on some of the themes explored in the Tell your Tale short Mare Family, Mare Problems. Inspired partly by this blogpost by Mica.
Note: Cover art is from A New Generation, as I couldn't find a TYT screenshot that fitted the story's themes.
Chapters (1)