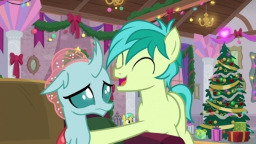 The Test that the Tree gave to the Young Six may have been unorthodox, to say the least, but it seemingly had desirable results for their friendship.
But what if things had happened differently? What if, instead of Smoulder finding Ocellus, Sandbar completed his test first? Find out inside!
Written for The Discovery - A Young Six Writing Contest, and also to help break a nasty case of writer's block.
Chapters (3)