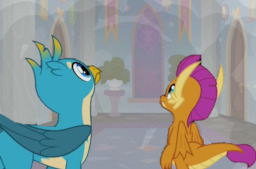 It's a weird morning for Smolder. There's a griffon in her bed, except it's not her bed, and she's fogged in while just in a room, not the building itself. Fortunately, there's a griffon in the bed, and four claws are better than two.
Contains Smollus and implied Gallbar, rated T for some innuendo and flirting.
Written for the Smaugust day 24 prompt, "Cloud."
Edit: top of the Popular column? This makes me a happy dragon
Chapters (1)