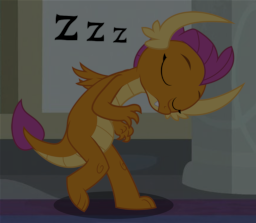 Sleepwalking--the act of walking while not conscious of it or aware of it, during one's sleep; to walk and/or perform other actions while sleeping; to somnambulate.
Which for Smolder, that alone is bad enough. Crawling into bed with Gallus while she's sleepwalking though...that's a whole other level of awkward.
Third place winner in "The Discovery" Young Six contest.
Featured by 2/5/2020.
Chapters (1)