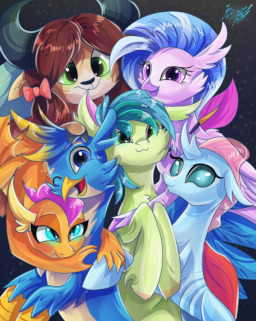 Source
This story is a sequel to That's what Friends are For
---
Following their rather unusual bonding experience under the school, the Young Six are stronger than ever. Join these six unlikely friends on their wild and wacky adventures, as they discover friendship, magic, and love.
An Alternate Universe take on the end of Season 8 and most of Season 9, as well as some stuff afterwards. Requested by SuperSonicHeroes, and written to mark the 10th anniversary of MLP.
https://www.fimfiction.net/user/248318/SuperSonicHeroes
The cover art was drawn by AlexBlueBird over on DeviantArt. Check them out!
Chapters (21)