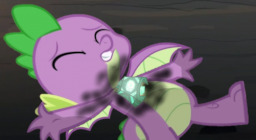 The villains seem to finally have the heroes in their sights. It seems that the Legion of Doom will come out on top. Until Spike makes a split-second decision to save his friends and home, but it comes with a hefty price. Now Twilight and her friends must find a way to cope with in the wake of this tragedy.
The Ending Of The End Rewrite.
Cover art is by the amazing BiggerNate91
Rated T for moderate descriptions of injuries, blood, character death, sporadic mild language, and dark nightmares.
Other Characters include:
Princess Celestia and Luna
Starlight Glimmer
Thorax
Ember
Discord
CMC
Garble
Smolder
Big Mac
Luster Dawn
Cobalt Blitz (OC)
Chapters (11)