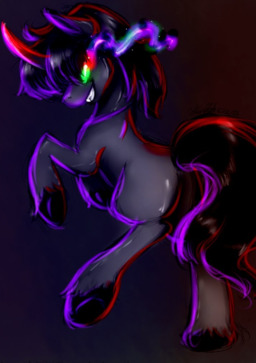 Source
Onyx is a young crystal pony with a twisted mind and a complete lack of foresight. He relishes in the suffering of others and has a disturbingly chipper attitude. All this is to help conceal his absurd desire for revenge and bloodlust. When he was young, Starswirl the Bearded whisked him away from the Crystal Empire with promises of being his apprentice. Years later, this led to the one spell that changed Onyx's life and devastated an entire country, and much more.
Sombra is the result of that spell: a young and mysterious creature created by a kind of magic almost as twisted as Onyx's mind. Unfortunately, Onyx is now and forever in his mind, unable to die or age as they are locked in a constant power struggle and a journey across the Arctic that could claim both their lives should something take a tragic turn.
---
This is a side story to Tomb of Magic as much as it is a stand-alone story. Contribute to the TVTropes page!
Proofread by an anonymous user.
Chapters (6)