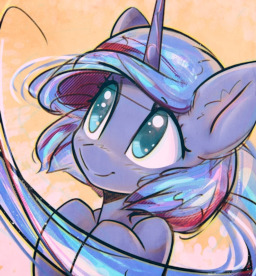 Source
This story is a sequel to A Blade of Moon and Stars
---
When Celestia unexpectedly falls sick in the middle of the desert, it's up to a young Luna to somehow obtain medicine for her sister. She must brave the sands alone, but it turns out that medicine she seeks is farther away than she ever thought.
---
Proofread by: Kirito-Persona
If desired, the story before this can be skipped. Rated T for significant amounts of dramatic elements. Contribute to the TVTropes page!
Chapters (3)