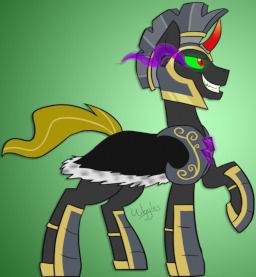 Source
King Sombra was defeated and the Crystal Empire was saved, but not long after that, Twilight and her friends learn of a pony intent on resurrecting the fallen king. Princess Celestia and the crystal ponies identify him as Temor, the adopted son of King Sombra.
No one knows where Sombra found him or why he chose to raise him and adopt him as his heir. Now it is a race against the clock to stop Temor from completing his goal and in the meantime, the former prince reminisces on how he became who he is today.
---
This story is part of The Equestria Tales series, although set in an alternate universe. It is a what-if story based on a line from Possession in the Crystal Empire.
The story occurs in early season 3 and diverts a bit from season 3 and onward.
Cover made by Wiggles
Story edited by Hail King Sombra.
Chapters (22)