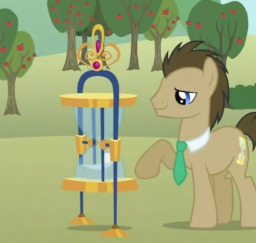 He's the official Time Keeper of Ponyville. He is the one who keeps the clock tower of Ponyville in working order. He makes clocks and sells them in his shop as well as reparing any clocks that need to be fixed for the citizens of the town. His life is pretty normal, but it may be changing. He has begun to realize that he's attracted to the local mail mare but he's far too nervous to do much about it. Other things also distract him as the clock tower needs minor repairs and he gets a new employee at his shop. Then things go south when the mare he loves has some trouble with her daughter's father.
---
This story is part of The Equestria Tales series.
Pre-story to "Return of the Dark Ponies" story arc.
Unofficial side story to "The story of Tango and Snow Heart"
Chapters (15)