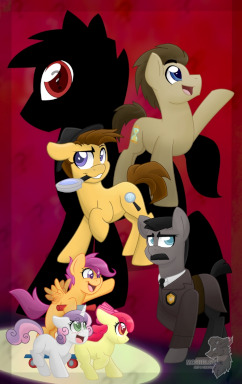 Colt Detective is the story of Clue Chaser.
After his father committed suicide, he was taken in by his uncle Time Turner and now lives in Ponyville, trying to adjust to his new life there. But Clue is convinced that his father was murdered, even though no one believes him, which weighs down on him considerably.
Thankfully, with the help of some friends--including the imaginary voice of his hero, Phillip Finder, protagonist of A.K. Yearling's Equestria Noire series--he'll find his way and gain the experience and knowledge he needs to become a true detective and maybe even find his father's killer.
---
Inspired by: Case Closed
Note: This is my first detective story, and I will try to make the cases make sense and work on them in fine detail. But this is my first detective story, so be gentle as you read it. And please don't read a chapter, then comment about a mistake, then keep reading the chapter, then comment again. Please read the whole chapter first, then comment, please.
Editors:
PonyJosiah13
Big thanks to PonyJosiah13 for letting me use Phillip Finder as a character mention and tribute in my story. If you're looking for an amazing detective story, be sure you check out his profile and have a look at his stories about Phillip Finder and Daring Do which was the first time I got introduced to the character. But there is a lot of great detective stories there, so go check him out!

And also big thanks to Hoodwinked MCShelster for the amazing cover art! Really love how it turned out! ^^
Chapters (6)