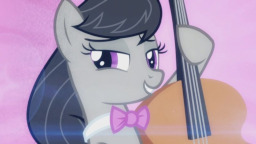 Source
This story is a sequel to Retirement of a king
---
Octavia is getting tired of living a single life and sharing a house with her sister. She wants something different, something unique even.
Then she learns from the papers that an unusual herd union is being created in Fillydelphia. A very rare thing to happen in this day and age. Her curiosity is piqued and she travels there to learn more about it. Turns out this is precisely what she wanted. However, now she's worried she's already blown her chance.
Can she convince a herd consisting of a silent, grumpy historian, his pegasus soulmate and a former dark king to let her join?
---
Special disclaimer This story features mild bisexuality topics.
---
This story is part of The Equestria Tales series and is a quasi-follow-up to Retirement of a king.
Story edited by Hail King Sombra.
Chapters (4)