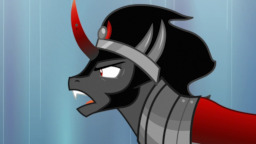 Source
This story is a sequel to Rage of a Queen, wrath of a Mother
---
After King Sombra escaped his captivity, he dropped off the radar again and nobody knew where to find him. Meanwhile, his mother has by all appearances started to reform and is allowed limited mobility within Canterlot Castle.
Then suddenly, after many months, the king himself returns and gives Private Iceland and his friends a rather odd offer; convince him to retire from his evil ways. Naturally, everybody is on guard, wondering what Sombra is up to and if he's being genuine about this offer.
Meanwhile, Princess Celestia must also contend with a mysterious accident that has delivered a very familiar pony to her kingdom.
---
Special disclaimer This story features mild bisexuality topics.
---
This story is part of The Equestria Tales series
The final story in the "Return of the Dark Ponies" story arc.
Story edited by Hail King Sombra.
Chapters (15)