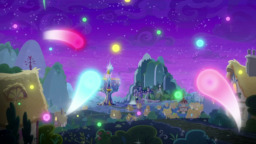 This story is a sequel to The Sons of Barricade. Part 1. Cooper
---
When the magic suddenly drained all over Equestria, there were a lot of accidents as unicorns lost their magic abilities and spells began to fail. Some of these accidents were more devastating than others.
A colt loses his mother.
A soldier loses her best friend.
And a former gang leader living in Manehattan must now meet the son he's never met and face a dark spot from his past. Past he's still slowly coming to terms with while still haunted by what King Sombra did to him.
---
Part 2 of a duology called The Sons of Barricade.
This story is part of The Equestria Tales series
The story happens both during the magic drain effects of School Raze and in the aftermath of those events.
Chapters (6)