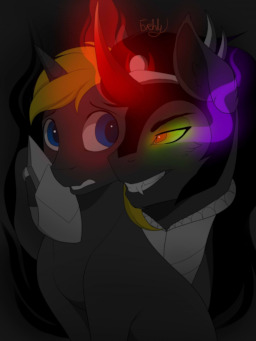 This story is a sequel to Possession in the Crystal Empire
---
King Sombra. The lost son of Queen Rabia. The former tyrant of the Crystal Empire. He thought he was the last of his kind. He's been defeated twice, first banished for a thousand years, then shattered by the magic of the Crystal Heart, but he was still not down. He was brought back to life due to previous careful planning and through that process has learned that there is hope for his race.
After laying low to recover his former strength, King Sombra has decided that he will rebuild the empire his mother and late sister ruled. But to do that, he needs ponies, certain ponies. Ponies that can trace their ancestry back to his race.
He needs Private Iceland and Barricade and preferably their family too.
---
Special disclaimer (Should have been in place from the start, author apologizes: This story features somewhat heavy discussion in parts on bisexuality and features implicated M/M sexual interaction. If those kind of things make you uncomfortable, this is not a story for you.
---
This story is part of The Equestria Tales series
Second story in the "Return of the Dark Ponies" story arc.
Third story in "Barricade's redemption" story arc.
Cover made by Evehly. Originally given as a gift to Hail King Sombra, used with permission.
Edited by Hail King Sombra
Chapters (25)