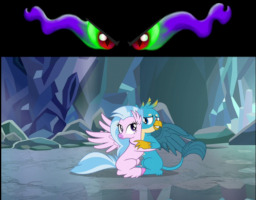 This story is a sequel to Stream of Silver, Heart of Gold
---
(This story is a direct continuation from the sequel; highly recommend reading it first.)
As Gallus continues to try and explore the uncharted waters of being a special somegriff, the demons from his past rear their collective heads. Thankfully, Gallus has someone who loves him at his side, and she is more than happy to help him wade through a past of painful memories. A lifetime of clawing one's way through life eventually takes its toll though, and the only thing worse than losing everything, is losing it all after coming from nothing.
When a diplomatic meeting at Mount Aris is attacked by an unknown force, Gallus and Silverstream are whisked away behind enemy lines. As a new empire sinks its teeth into peaceful soil, the winds of war begin to howl. With nowhere guaranteed to be safe, Gallus once again has to fight with every fiber of his being;
Only this time it's to protect the he loves, and nothing will stand in his way.
(Season 8 Spoilers)
Tag Information: Violence/Gore tag for intense fighting and rip-roaring action scenes. Sex tag for general topic discussion/jokes/suggestive moments.
Story updates over the weekend (either Friday/Saturday/Sunday)
Chapters (21)