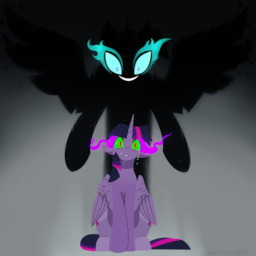 Source
Searching for any records King Sombra may have left behind, Twilight learned of the shadowy king's tragic past. However, she also discovered his horn, in which his mind and remaining power were contained. Determined to learn how to use his Dark Magic for Good, Twilight brought Sombra back to Ponyville with her. After all, what could he possibly do as a horn? ...Or will he stay that way?
Edited by Darth Vendar and Myrkur
Inspired by Issue #1 of FIENDship is Magic
Gore tag just to be safe, only moderate violence.
---
Edit 10/07/18: Now in the top 3K stories on the site, by rating!

Thank you all!
Chapters (38)