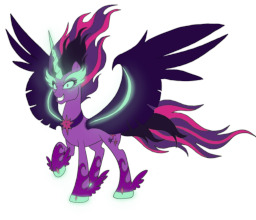 This story is a sequel to The Return of the King
---
Twilight Sparkle, still adjusting to her new role as a Princess of Equestria, finds herself plagued by stress and self-doubt as she questions her worth to her friends and to her country. Unknown to everypony, Twilight included, she has become possessed by the same force that turned Princess Luna into Nightmare Moon. Soon, Twilight is transformed into Midnight Sparkle, self-proclaimed Queen of Magic and sets off to conquer Equestria for herself. Desperate, her friends reluctantly team up with Sombra in order to get their Twilight back and end the threat that started a thousand years ago once and for all.
*Part of my head canon series
Set during Season 5 after "The Cutie Map" but before "Castle Sweet Castle"
Contains Twibra; if you're not into that, then you might not enjoy this story
Cover art by MelSpyRose
Chapters (21)