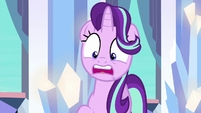 Once a devious villainess, Starlight Glimmer has come a long way in her reformation, now making up for her past mistakes with the aid of her new friends. Unfortunately, her past has her questioning if evil runs in the family so acting on Twilight Sparkle's advice, she decides to make a presentation on her family's genealogy. After an exhaustive search, Starlight discovers that she is, in fact, descended from Clover the Clever, Star Swirl the Bearded's pupil and one of the founders of Equestria!
Armed with this knowledge, Starlight decides on a more "interactive approach" for her presentation. Enacting a time spell, she brings Clover the Clever to the present and gets to know her great-great-great (times fifty) great-grandfather.
*Part of my head-canon universe and occurs sometime early on in Season Six
Yes, I am aware that some people write Clover the Clever as a female but in My Little Pony: Equestria Girls-Forgotten Friendship, Clover is described as "he" so that's what I'm going with.
Cover art is from mlpfandom.com
Chapters (9)