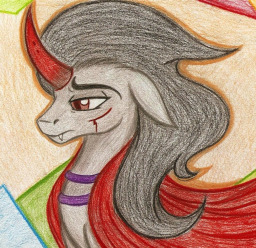 Source
This story is a sequel to All Hail, Midnight Sparkle!
---
After a year of incarceration, Sombra was free and ready to take his revenge on Princess Celestia when, against his better judgement, spared her life and fled. He then aided her and Equestria's heroes in freeing Twilight Sparkle from the influence of Nightmare Moon, though he experienced his own trial during that time. Now once again on the run, Sombra is questioning his purpose in this brave new world. What is next for Sombra now that he finds his life is changing? Will he change as well?
*Takes place in my head-canon universe
Set during Season 5; takes place after "The Cutie Map" but before "Tanks for the Memories"
Contains Twibra; if you're not into that, then you might not like this story
Cover art by RossmaniteAnzu and is used with her permission
Chapters (3)