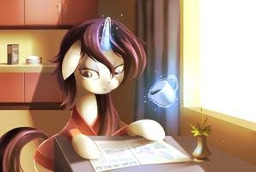 This story is a sequel to Care to Buy a Lady a Drink?
---
You are Anonymous, aka Anon, the only human in Equestria. Last night, you happened to meet your good friend Rarity in a bar and after revealing to you her recent feelings of self-doubt, you decided to hang out with her and buy her a few drinks. After escorting her back to your place, you proceeded to engage in hot drunk sex with the fashionista and you fell to sleep in each other's embrace.
The next morning, you awake in Rarity's bed with a pounding headache and a foggy recollection of last night's steamy encounter. You then meet up with Rarity in the kitchen and decide to have a nice discussion about your drunken tryst and your current relationship, agreeing that you'd like to be an official couple. How will Rarity's friends react to the news? Will this devastate Spike?
Contains: Serious conversations, a romantic relationship between a human and a pony, scenes of inter-species love-making, the name Anon and the Feels
Cover art by Karzahnii
Featured!!!!
Chapters (9)