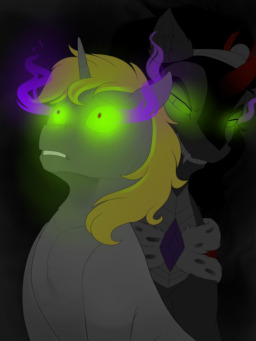 This story is a sequel to The Time Keeper of Ponyville
---
A silent grouchy pony is found by Princess Cadance and Shining Armor in the snow outside the Crystal Empire. He refuses to reveal his identity and doesn't say why he climbed the small mountain he was found on top of, but deep in his mind the pony has a very unwanted guest who has his own designs for both the Crystal Empire and the Royal Couple.
The prince and the princess know they must stop their enemy, but it might come at a terrible cost. The possessed pony's life.
---
Special disclaimer (that should have been here from the start, author apologizes):
The story contains light mild m/m sexual innuendo and mild discussion on bisexuality, but not strong enough to warrant the sex tag. However it still might be enough for people who are uncomfortable about this topic.
---
This story is part of The Equestria Tales series.
First story in the "Return of the Dark Ponies" story arc.
First story in the "Barricade's redemption" story arc.
Cover made by Evehly
Chapter 15 onwards are proofread by Hail King Sombra
This story is marked as a sequel to The Time Keeper of Ponyville, as the story uses rather heavily some of the plot points from that one related to the original characters that feature in this tale. Explanation can be found here: http://www.fimfiction.net/blog/592234/sequel-sort-of
Chapters (25)