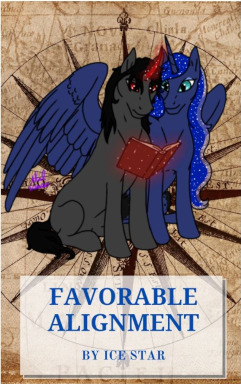 Source
This story is a sequel to Divine Move
---
Gods cannot die, so what happened so long ago that ended in the total collapse of Pre-Equestrian civilization?
After many years of unspoken tension mixed with isolated peace, those that remained have received the cryptic message many never wished to see. When such events unfold, Princess Luna recalls a desire she thought she had all but buried and leaves Equestria without a word, only to be followed by the enigmatic and arrogant Sombra.
Now Luna and Sombra – whose ways have remained undecipherable to every princess so far – try to use what knowledge they have to save the world and themselves.
---
Book Five and Final Book of Sombra's Odyssey. The cover art is fan art drawn by dragonofruin with edits were done by me. Beware of the numerous unmarked spoilers in the comments! With some help from: NorrisThePony and an anonymous user. The gore and violence tags are for descriptive injuries in the scenes featuring combat, which is only a small portion of the story. Contribute to the TVTropes page!
Chapters (56)