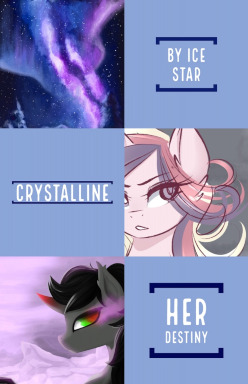 Source
Lately, Princess Cadance has been feeling inadequate. She's spoken of this briefly to Twilight Sparkle at the Starswirl the Bearded Traveling Museum, but her longing for a grand adventure is really starting to get to her, as are the thoughts that she isn't doing her best.
When help comes in the unlikeliest of places, Cadance finds herself getting more than she bargained for, starting with her companion of circumstance: King Sombra.
---
Book One of Sombra's Odyssey. Takes place in between seasons 4 and 5 of MLP:FiM canon. Proofread by: NorrisThePony and ElderXelpud Spoilers in the comments. The cover art is assembled from a piece by sugarberryart, plainoasis, and Pedro Hander. This story is a rewrite of Crystalline. Contribute to the TVTropes page!
Chapters (15)