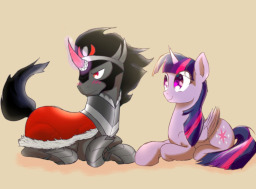 Source
I deserve no forgiveness. If I could take it back, well... I would never have met her. Somepony who could forgive me. I think. Look, it confuses me so stop asking!
I hate him and what he did to the Crystal Ponies is something I will never forgive. So why is it that I care when ponies scorn him? When they hurt him, why does it make me cry? When I see him, why does my heart skip?
Twilight Sparkle, Princess of Friendship
Is it just me or has Twilight gone crazy? Dude's a jerk.
Spike, Number One Assistant
Can we please change the subject?
Princess Celestia, Co-Ruler of Equestria
---
Author's Note: Other is flagged due to the character flag limit. Expect Cadance, Shining Armor, Luna, and Discord at least!
Chapters (20)