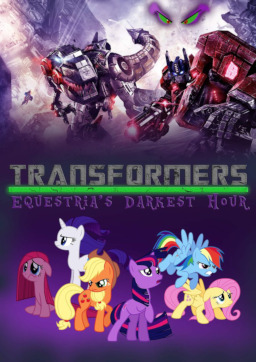 Source
Equestria was saved. The Transformers had arrived to their new home, a planet called Earth. The Autobots and Decepticons continue their war while the ponies of Equestria only have memories of the greatest heroes they ever knew.
But those memories….would soon turn into nightmares.
When an ancient evil returns to seek revenge on Megatron for betraying him, the Decepticons steal a precious element that the Autobots need. It's a race to stop Megatron with Optimus Prime and his fellow Autobots as they all crash-land in the one place they swore never to return.
Megatron's master plan will unfold. The end of days is coming. This is the rise of the Decepticons.
Experience the battle that changed their fates and decided the future of Equestria. When old enemies return on the helpless home of the equines, can even the mighty Autobots stop the great extinction that will fall upon the pony world?
The Legend will fall….in Equestria's darkest hour.
____________
Direct sequel to Transformers: Fall of Equestria.
Once again, a big thanks to edCOM02 for making the over image!
Chapters (30)