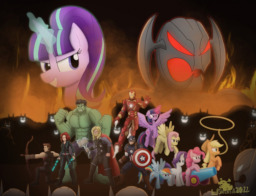 Source
Avengers: Age of Ultron crossover.
---
Ultron's plan had come to perfect fruition. There would be no more war, no more chaos, because the ones who caused it all would be gone. In just a short moment, the world would be saved from its true demon. Humans.
It would have all been so much simpler…if it wasn't for them.
The Avengers.
As it is said, as it always will be, true peace can only be granted through countless innocent lives. In hindsight, the ponies were never that different from humans. Ultron's plan is not yet over, and soon his strings will be severed…for the last time.
Big shoutout to Shrekzilla for his amazing job on the artwork!
Sequel: This War of Ours
Chapters (75)