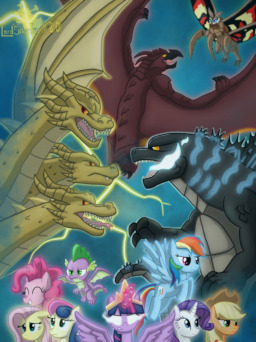 Source
Godzilla: King of the Monsters (2019) Crossover.
---
Equestria had only heard of legends of the Gods of Old. They roamed the world before ponies, ruled it, claimed it as their kingdom before the New Ones took it for themselves. Before a time of nations, of magic, of even friendship itself… the age of the monsters was alive before it fell into a dark, deep slumber.
That age has awakened.
When the ponies of Equestria learn of these great beasts awakening worldwide, the balance of nature itself hangs on a thread as the Gods of Old rise up to reclaim what was once theirs. Can Equestria's greatest heroes coexist with these mythical and majestic beasts… or will they have to accept that their rule has come to an end?
For the rule of the one true king has returned.
---
Cover art by Shrekzilla. Go give this awesome dude a follow!
*FEATURED ON 11/22/2020. Thanks everyone! :D*
*FEATURED AGAIN ON 2/2/2021. I may have missed others, but thanks again! <3*
*FEATURED ON 2/7/2021. Much love, y'all :)*
*We're just gonna have this as a statement for all future features of this story. Thanks everyone!*
Chapters (41)