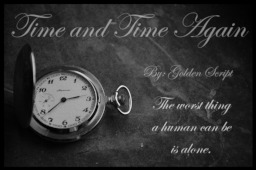 Source
"The worst thing a human can be is alone."
---
Time, the ever-flowing measure of action. It is not a physical thing that one can touch or feel, but an abstract thought of the difference between now, then, and later. It is the indefinite continued progress of existence. What happens when one has the ability to control time? He is deemed one of the most powerful beings on the planet, for he can stop you in your tracks without any effort at all.
I am this being.
I control Time.
---
This is a rewrite of the rewrite. The original Time and Time Again has been removed. I hope you all enjoy this version better.
The picture is credited to Shoshin005. I added the words myself with a simple editing tool. (why can't full Pixlr be free anymore?!

)
Chapters (3)