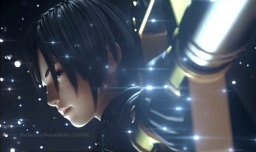 The heart. Such a mysterious source of power. Those with weak ones soon find their hearts lost to darkness. Those with strong ones have shown to unleash the most powerful of lights. But what makes a heart strong? What makes the darkness so attracted to it? I must know.
Twilight. Applejack. Rarity. Rainbow Dash. Pinkie Pie. Fluttershy. These six posses the strongest hearts in all of Equestria. They may show me the answer to my questions. But to unlock the secrets within them, I will need a key. A key that no one will miss if it vanishes...or perhaps, a key that no one knows to exist at all. I need a keyblade. I need her.
Xion will be based on her game and manga counterpart.
Chapters (37)