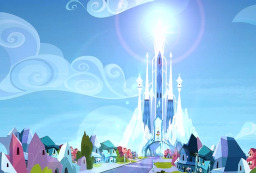 "Learning to trust your instincts is a valuable lesson to learn."
Mere months after the events of "A Canterlot Wedding," the memories of cold shoulders and dismissals remain fresh in Twilight Sparkle's mind, which causes her to question her ability to face the next task that Princess Celestia bestows upon her.
Alone, she must find a way to protect an entire empire. She's afraid and unprepared, but when a mysterious stallion lends a hoof to her success, she soon discovers a friendship that threatens to blossom into something much greater.
(6/9/2016): Made it to the "Featured" page again! You're so awesome, guys!
(( "Of Magic and Masquerades" is the first story in the Crucibles of Harmony series. It is an alternate take on "The Crystal Empire," with some alternate events from Season 3 and minor Twilight/Sombra shipping. ))
Chapters (26)