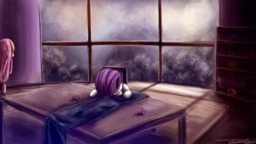 Source
"We were so used to them wreaking havoc and walking away from the most ridiculous wreckages that it was easy to forget they weren't invincible. Fate was a cruel mistress to take one of them from us at such a young age...
I was fortunate, but somepony close to me was not. It was hard for me to imagine the loss she felt. It was so difficult. I wish there was more I could have done to comfort her, but my attention was focused elsewhere. Sweetie Belle lost one of her closest friends and she needed me to guide her through the grief and chase away the occasional nightmare. I devoted so much of my time to her that I dared not acknowledge the plague of strange happenings that fell upon Ponyville soon after the accident.
I was such a foolish mare..."
Chapters (8)