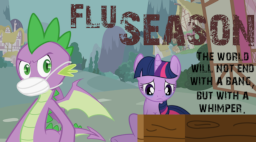 The flu; all ponies have had it at some point in their lives. It's a simple yearly ordeal that leaves you feeling crummy for a week or two, then you're fine again, right? Oh how wrong of a misconception that is. This is not the story of the feather flu, this is the story of the black flu; the worst flu pandemic in Equestrian history.
(There is adult SpikeBelle shipping [as in age, not content] and no, there aren't any zombies.)
Though this story is fictional, I'd like to point out that this will be an accurate representation of a worst case scenario pandemic in our world. And after the recent outbreak of H7N9 in China and NCoV in Saudi Arabia, I felt as though I needed to write this story. So I hope this story will both entertain and educate you.
Chapters (11)