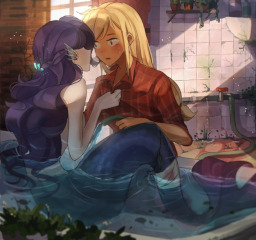 Source
It's been a year since a tragic accident took Applejack's parents. A year, and she still doesn't know what to do with herself. Encouraged by friends and family, she decides to spend the summer vacation at Fluttershy's beach house on Splendora Island. She's not sure if it's helping.
Then, one night, she finds something injured on the beach. No, not something. Someone.
What starts as good intentions steadily grows into something else. Whether that something else is good for Applejack is another matter entirely.
---
Have questions regarding the story? Visit the Q&A blog!
"PaulAsaran's attention to detail and use of repetition, flashback, and expression to create an unforgettable story is something I'm still trying to get a handle on in my own work." — leeroy_glBZ
"Impressed every step of the way. Thoroughly good writing." — Shrink Laureate
Inspired 100% by the cover art. The idea jumped into my skull and refused to leave until it was written out.
---
Props to my wonderful pre-readers: SorenPixels, NaiadSagaIotaOar, and Wanderer D!
Cover art used with permission from LooknamTCN, verily one of the best RariJack artists ever. Check out their immensely enjoyable Tumblr.
Chapters (7)