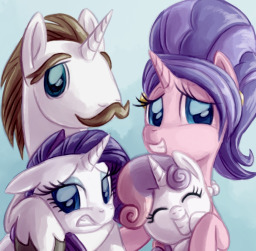 Source
When teenage Rarity decides to start calling her mother by her first name, Cookie Crumbles is far from thrilled. But Rarity's at that age where she'll do just about anything to get a rise from her, and making it stop always takes a bit of work.
Luckily, Sweetie Belle might just give her the inspiration she needs to fight back.
---
A little something that popped into my head and had to be written down. Just for fun this time, folks.
Cover art brought to you by WhiteDiamondsLtd.
Chapters (1)