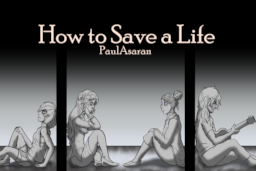 This story is a sequel to Escape
---
An unexpected meeting at a bar allowed Rarity and Twilight to bond over their individual failed marriages. Now the time comes to take the next terrifying step. When doubts come roaring to the surface, they call upon a mutual friend to help them find their courage.
There are no instruction manuals for breakups.
---
Inspired by How to Save a Life by The Fray.
My thanks to Inquisitor M, Sypher, KorenCZ11 for volunteering to pre-read the story and help me with a few tweaks.
Cover art generously donated by KorenCZ11.
Other stories inspired by music:
Ordinary World
Bed of Roses
Escape
Bulletproof Heart
Drops of Jupiter
Chapters (1)