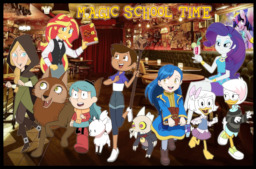 Source
Somewhere in the multiverse, there is a bar. It's small—the kind-of a hole-in-the wall place which you might find open late at night while walking down the streets of Canterlot City in the 1920's.
But unlike most bars, this one is not actually there… or rather, not where you think it is.
The entrance to Sunset's Isekai will be found in passing; an archway made of stone, emerging from a wall that you could have sworn had nothing there before, and in fact seems impossible to actually lead anywhere.
There, a door of solid oak—lovingly worked and stained to look almost golden-red—with a thick, crystal version of Sunset's cutie mark at eye level awaits visitors under the soft light of a gas lamp.
This door opens to all worlds, and can only be found by those that need that drink to be just the right type of different.
Note: This fic is best read like nursing your drink - Don't rush it. Enjoy each flavor for what it is. Don't mix it all up by reading it one chapter after the other in one sitting. It's intended to (mostly) work in a way that each chapter can be read without having to tackle through the rest of the story. (Also, for the last time, the concept for this is NOT based on Restaurant to Another World or any anime.)
You can visit the official Group HERE
List of Bar Regulars & Staff (will be updated if needed)
ART & Previous Covers:
Year 1 Cover Art by Dalorance
Gwen and Freya having a conversation
Cover Art 2 by Borba
Chapters (101)