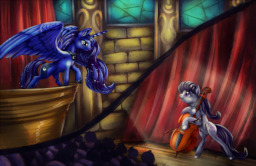 Source
Octavia Melody is calm, patient and longing to break the boundaries of class through her career as a musician.
Princess Luna is lost in the eddies of her past, struggling to belong in a new age that doesn't seem to want her.
A chance meeting after a disastrous gala gives these isolated souls a chance to find companionship and comfort. As Luna seeks solace in Octavia's soothing music, Octavia comes to recognize the princess's loneliness and fears. When it's your duty to protect other ponies' dreams, who protects your own? Octavia might just be willing to try.
---
...a fantastic fic, with one of the best paced romances you can find on this site, great prose, and one of the best characterized Octavia's I could point out. — Soge, TPCaRG (Read the review!)
PaulAsaran has crafted what may well be the best LunAvia ship on the site. —Cerulean Voice
Highly recommended if you like romance instead of the more typical shallow shipping. —City of Doors
If you're a fan of Luna and or Octavia, it's a crime not to indulge! —Wanderer D
I guarantee you will enjoy it. —vren55
---
Print copy now available for purchase on Lulu!
Now with a YouTube reading by Never After All Readings!
---
A re-imagining of The Gentle Nights, reworked from the ground up to be bigger and brighter.
Special thanks to Mercury Gilado, Absolution and Starlight Nova for pre-reading and editing.
Artwork commissioned from the talented viwrastupr.
---
[11/11/2014]: Now featured on Equestria Daily!
Featured 11/22/14.
Chapters (22)