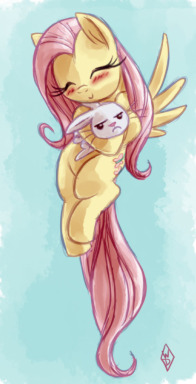 Source
All his life, Angel Bunny has been plagued by a single question. At long last, he has an answer, and he longs to reveal it. Doing so may be the single most important thing he's ever done, but Angel doesn't know how to deliver the message. After all, rabbits have no need of writing.
Angel needs to learn. Knowing this task is far too important to let his pride get the better of him, Angel does something he never thought he'd do: ask for help. There's only one pony for the job.
---
One of the most unique fics I have ever read. —PresentPerfect
A hugely welcome addition to the small pile of stories that take Angel's character seriously. —Louder Yay
The structural gimmick is both well-used and well-explored. —Royal Canterlot Library
A deeply emotional tale, told piece-by-piece through the perspective of someone who desperately wants to say something but is unable to say it. —Bad_Seed_72
...unique, endearing, heartwarming, cute, and proved to me you can write Angel Bunny in a way that doesn't make me want to strangle him. That last part alone is enough for me to think this story is a work of genius. —Vertigo22
---
Preread by Dash the Stampede
Edited by Hopeless Appraisal
Cover art used with permission from WhitediamondsLtd (click image for White's DeviantArt page)
3/29/2015: Now featured on Equestria Daily!
11/28/2015: Now featured in the Royal Canterlot Library!
Chapters (2)