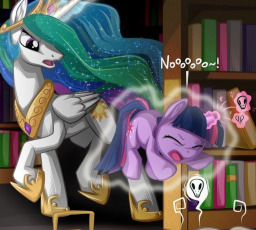 Source
All the castle staff of Canterlot know that when seven-year-old Twilight Sparkle has a problem, the correct answer is always "Let Celestia handle it." But this time? Celestia's student has come up with a theory that she wasn't quite expecting.
Yeah, this needs fixing.
---
Just a short little something that hit me out of the blue and demanded to be written. Not my usual cup of tea; criticism welcome.
Check Ichabod Creep's Audio Reading!
Special thanks to Super Trampoline for pre-reading!
Cover art used with permission from mysticalpha.
Chapters (1)